Modern slavery : myths & facts
Article published on 50forfreedom website
Modern slavery is all around us, but most people don't even realize it. Learn the truth about these common myths and then sign up to help end modern slavery for good.
MYTH: SLAVERY IS A THING OF THE PAST
FACT: No, it is not. Slavery has ancient roots in history and still exists today in many different forms. Although it is not defined by law, "modern slavery" is used to describe situations where someone is forced to work or marry and cannot refuse or leave because of threats, coercion, violence, deception, etc. Human trafficking, bonded labour and forced domestic work are just a few examples of forced labour. But that doesn't mean it's inevitable. A coordinated effort by governments and activists around the world could end forced labour for good. That's what the ILO's Protocol on Forced Labour is all about.
MYTH: RELATIVELY FEW PEOPLE ARE VICTIMS OF FORCED LABOUR
FACT: There are more people in slavery today than at any other time in history. More than 40 million people around the world were victims of modern slavery in 2016, including about 25 million in forced labour, and 15 million in forced marriages. If they all lived together in a single city, it would be one of the biggest cities in the world.
Sources:
2017 Global Estimate of Forced Labour
United Nations Department of Economic and Social Affairs: World Cities in 2016
MYTH: FORCED LABOUR ONLY HAPPENS IN THE DEVELOPING WORLD
FACT: Forced labour happens in every country in the world.
Sources:
2017 Global Estimate of Forced Labour
MYTH: SEX TRAFFICKING ACCOUNTS FOR MOST CASES OF FORCED LABOUR
FACT: Most of the people in slavery work in industries such as agriculture, fishing construction, manufacturing, mining, utilities and domestic work. Around one in five are victims of sexual exploitation.
MYTH: FORCED LABOUR ISN'T A BIG MONEY-MAKER
FACT: Forced labour is huge business. A recent ILO study estimated that forced labour generates annual profits of over US$ 150 billion, which is as much as the combined profits of the four most profitable companies in the world.
Sources:
Profits and Poverty: The Economics of Forced Labour, ILO (2014)
Fortune Global 500
MYTH: FORCED LABOUR DOESN'T AFFECT ME
FACT: Forced labour affects everyone. Even if you're not a victim of forced labour, you're still affected by it. Businesses, for example, face unfair competition from unscrupulous companies who reap the profits of forced labour. That may put pressure on them to lower wages or cut benefits. Meanwhile governments lose out on precious tax revenue while facing huge legal costs from prosecuting forced labour cases-money which could be spent on public services like education, healthcare or public transportation.
MYTH: MOST OF THE MONEY FROM FORCED LABOUR IS MADE IN THE DEVELOPING WORLD
FACT: The annual profits per victim of forced labour are far, far higher in developed economies and the European Union than they are anywhere else in the world.
Sources:
Profits and Poverty: The Economics of Forced Labour, ILO (2014)
---
Related Articles
LATEST NEWS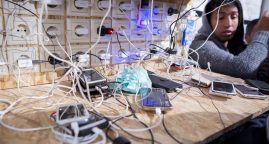 Discover those 3 publications of this issue on the theme of Humanitarian & Digital
Diplomacy & Mediations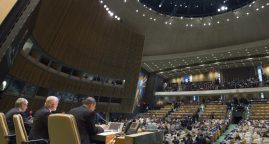 09/10/2016. At summit for refugees and migrants, senior UN officials underline the importance of collective action
LATEST NEWS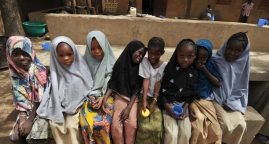 05/22/2017. MFAN urges Congress to use its leadership and budget authority to ensure that the following core principles are reflected in the national budget and any proposed reforms of U.S. foreign assistance.