Malteser International calls for more humanity ahead of World Refugee Day
Article published on the Sovereign Order website on 06/20/2018
Malteser International and the Order of Malta network provide help for refugees and displaced persons worldwide
The number of refugees and displaced persons around the world continues to increase every year. The United Nations High Commission for Refugees (UNHCR) estimates there are now almost 70 million people forcibly displaced across the globe, including over 22 million refugees.
"Many people have had to flee violence and war in countries like Syria, Iraq or Nigeria, putting themselves through extremely risky situations in order to reach safety," said Douglas Graf von Saurma-Jeltsch, President of Malteser International Europe. "These people need our help. As Christians, we are called to love our neighbors as ourselves. We have a duty to place humanity above all else by supporting them as long as they need our help."
Presently active in 29 countries, Malteser International, with support of the Sovereign Order of Malta and its national Associations as well as an established diplomatic network with over 100 countries, offers assistance to refugees and displaced people in the Middle East, Africa, Asia, the Americas and Europe. Behind the high number of displaced people are individuals with dreams and ambitions like anyone else.
Eddy Agbouvboure dreams of starting a new life in Germany. The 29-year-old Nigerian from the southern city of Benin was a target of persecution and intimidation by members of a radical religious sect who wanted him to denounce his Christian faith. Fearing for his life, Agbouvboure embarked on a perilous journey to Europe. "At some point on our boat trip to Italy we ran out of food and water. Two fellow travelers died," he recounted. Agbouvboure now lives in an accommodation facility in the German town of Meschede. The facility is run and supported by Malteser Germany. "I just want to live in peace and security, and become German," Agbouvboure said.
40-year-old Kulu from Baga, in northeastern Nigeria also dreams of a better life. Three years ago, her husband was killed in an attack on her village by the terror militia Boko Haram. For over nine years, Boko Haram has been waging a violent campaign in northeastern Nigeria to establish a sharia state. The insurgency has sparked a major humanitarian crisis, and has brought untold suffering to millions of people around the Lake Chad region.
Kulu was pregnant at the time of the attack. She suffered a miscarriage as a result of the strains of her escape and the emotional distress of watching her husband get shot by the gunmen. "I thought I had lost my mind," Kulu said. She now lives in a camp in Maiduguri, where Malteser International provides clean drinking water and hygiene materials for displaced persons. Although Kulu was forced to leave everything behind as she fled her home, she still holds on to a dream: She wishes that someday her children can go back to school and have a better future.
First marked in 2001, World Refugee Day is observed every year on 20 June to raise awareness of the situation of millions refugees worldwide, while providing an opportunity to honor their strength, courage and perseverance.
---
Related Articles
LATEST NEWS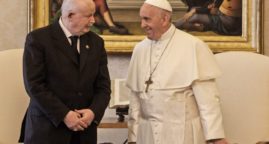 06/22/2018. During the meeting, the Grand Master illustrated the Order of Malta's main activities in the humanitarian and diplomatic sectors last year.
Humanitarian Aid & International Solidarity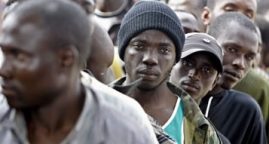 04/11/2017. Over the past weekend, IOM staff in Niger and Libya documented shocking events on North African migrant routes, which they have described as 'slave markets' tormenting hundreds of young African men bound for Libya.
LATEST NEWS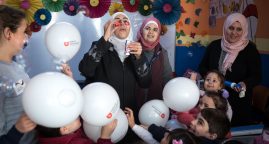 06/20/2017. Syria's War Children | No lost generation