'Enduring dilemmas' of speaking out – Red Cross director
Interview published on BBC website on 06/05/2017
Director of Operations for the International Committee of the Red Cross (ICRC), Pierre Krahenbuhl, has told Stephen Sackur about the difficulties faced by humanitarian organisations when carrying out their roles in the midst of modern conflicts.
Asked about the dangers of the organisation remaining neutral, Mr Krahenbuhl said there are "enduring dilemmas" for the ICRC to find a balance between publicly denouncing a place of detention or an attack on people and preserving trust between all parties so they can continue to help people.
Click on the picture to watch the video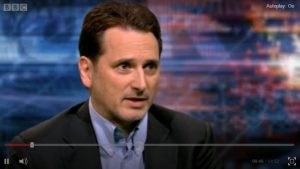 ---
Related Articles
Violence against women is one of the most pervasive human rights violations in the world, rooted in gender inequality, discrimination and harmful cultural and social norms
"This technology is very important for the work we do. UNOSAT analysis can prove very useful in complementing the various forms of human rights investigations". OHCHR's Deputy High Commissioner Flavia Pansieri.
03/10/2016. Despite warnings regarding Europe border closures, forced migrants set off from Turkish to Greece.