Syria: Citing lack of action, UN envoy cuts short humanitarian taskforce meeting
The United Nations envoy for Syria abruptly suspended the regular international humanitarian taskforce meeting in Geneva today shortly after it started, saying it made "no sense" to continue unless there is a pause in the fighting so aid convoys could reach besieged areas of the war-ravaged country.
"I decided to use my privilege as Chair to declare that there was no sense in having a humanitarian meeting today unless we got some action on the humanitarian side in Syria," UN Special Envoy for Syria Staffan de Mistura told reporters in Geneva, following a meeting of no more than eight minutes, co-chaired by Russia and the United States.
The taskforces for humanitarian aid and a cessation of hostilities, created by the International Syria Support Group (ISSG) which comprises the UN, the Arab League, the European Union and 16 other countries, have been meeting separately since early this year on a way forward on the Syrian crisis.
Mr. de Mistura said that not a single humanitarian convoy so far reached any of the besieged areas in August due to fighting, and it has been 110 days since aid last reached Madaya, Zabadani, Foah and Kafraya, the besieged areas under the 'Four Towns Agreement.'
The UN envoy also made, on behalf of the Secretary-General, a strong appeal for a pause of at least 48 hours in fighting in order to deliver UN humanitarian aid to the whole city of Aleppo – a pause that has become ever more urgent as the horrific images emerging from the ground attest to.
Mr. de Mistura also noted that he was scheduled to attend a meeting of the cessation of hostilities taskforce later in the day to discuss the truce.
"Tomorrow is World Humanitarian Day, and in Syria what we are hearing and seeing is only fighting, offensives, counter-offensives, rockets, barrel bombs, mortars, hellfire cannons, napalm, chlorine, snippers, airstrikes, suicide bombers," he stressed.
Further explaining why he adjourned the humanitarian taskforce meeting, he said that it was to give a chance to prove that these meetings are indeed, as they have been in the past, meaningful for the Syrian people. He also said it was to display "respect" towards the World Humanitarian Day tomorrow and signal "deep unhappiness" about the lack of a pause that is preventing humanitarian aid from reaching anywhere in Syria, except Deir ez-Zor, where the World Food Programme (WFP) has conducted airdrops 100 times.
Responding to questions, Mr. de Mistura said Russia and the US have "a genuine intention of finding a non-military solution, but a 48-hour pause in Aleppo would require "some heavy lifting" from not only the two co-chairs, but from those who have influence on fighting on the ground.
The UN envoy said the humanitarian taskforce will meet next week.
Later in the day, a UN spokesperson in New York noted that Mr. de Mistura had since received communication from the Ministry of Defense of the Russian Federation, stating its readiness to support his proposal of a 48-hour humanitarian pause in Aleppo.
According to a press note, the Special Envoy welcomed Russia's statement, and the UN humanitarian team is now set to mobilize itself to respond to this challenge, as stated recently by UN Emergency Relief Coordinator Stephen O'Brien. The plan is to collectively work out the operational details, and be ready for delivery as soon as possible.
Further, the note says that the UN counts on Russia to deliver its part, regarding, in particular, the adherence of the Syrian armed forces to the pause, once it comes into effect. The Organization further counts on all those with access to or influence on the armed opposition, in particular the US, as ISSG co-chair, as well as other relevant ISSG members, to ensure that the armed opposition also respects the 48-hours humanitarian pause.
Read the article on UN website
---
Related Articles
LATEST NEWS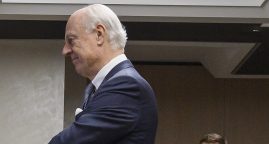 02/26/2017. Staffan de Mistura wanted productive talks that relaunch the process towards a political solution to end the six-year war.
Diplomacy & Mediations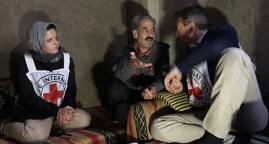 02/26/2016. "These violations lead to unimaginable and unnecessary suffering" (Peter Maurer)
Humanitarian Aid & International Solidarity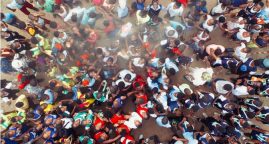 07/28/2017. Researchers warn major aid organisations will be sidelined by 2030 unless they change tack.