IOM, EU Strengthen Ties on Global Migration at Senior Officials Meeting
Article published on IOM website on 03/10/17
Senior officials from the European Union (EU) and IOM met in Brussels on March 9th to further strengthen cooperation on addressing the challenges and the opportunities related to global migration governance.
The annual strategic meeting, known as "The Senior Officials Meeting," was hosted by European Commissioner for Humanitarian Aid and Crisis Management Christos Stylianides.
"There is no doubt that today migration is one of the mega-trends that define our century. In Brussels, for example, more than half of the population was born in a foreign country. Building walls and fences is not only against our common humanity, it is also a bad policy," said Commissioner Stylianides.
IOM Director General William Lacy Swing and Deputy Director General Laura Thompson took part in the high-level dialogue – the fourth of its kind – together with other senior officials from the European Commission (DG HOME, DG DEVCO, DG NEAR and DG ECHO), the European External Action Service. Officials from IOM's Geneva Headquarters and the regional office in Brussels also attended.
Ambassador Swing welcomed the deepening of the strategic dialogue between IOM and the EU since the signing of the IOM-EU Strategic Cooperation Framework in 2012, which has led to more regular channels of cooperation, discussion and joint planning to respond to the mounting migration and mobility challenges of 21st century migration.
"The EU and IOM share the view that no country can effectively address migration alone, and that all countries, international organizations, civil society and local authorities need to work together to make a comprehensive, coherent and sustainable European migration policy a reality," he said.
This year's EU-IOM meeting takes place at a time where the scale and complexity of migration challenges facing Europe and the world continue to challenge a collective response at every level.
The EU and its Member States, as well as international partners, have been called upon to respond simultaneously to both the root causes and the consequences of increasing human mobility, multiple complex emergencies, and persistent economic challenges. Demographic decline, a changing climate, and a dangerous, migration-averse political climate continue to characterize the prevailing global situation.
Discussions at this year's meeting focused on strategic and operational approaches to addressing global migration and forced displacement challenges, in particular, how to work towards a sustainable and coherent approach to migrant protection, voluntary return, and reintegration.
Concrete implementation of recent global policy developments such as the 2016 New York Declaration for refugees and migrants and the Global Compact for safe, orderly and regular migration were discussed in connection with the European Partnership Framework with Third Countries, the Joint Valletta Action Plan, and the EU's new approach to foster self-reliance of forcibly displaced populations and to support their hosts.
The EU and the IOM agreed on further stepping up cooperation along the Central Mediterranean route, particularly in Libya, in order to ensure protection for those in need and more efficient migration management adhering to human rights and international standards. The parties also discussed how IOM can continue playing an important role in the implementation of the Migration Partnership Framework, with a number of priority countries in sub-Saharan Africa.
The EU and its Member States remain one of the largest contributors to IOM's budget with more than 540 projects contracted in 2015 and 2016 with a total value of EUR 890 million. Half of the funding comes from the European Commission services. From 2014 to 2016, IOM has received on average around EUR 51 million in EU humanitarian aid per year.
Ahead of the meeting, IOM published the second edition of its partnership report showcasing its global cooperation with the EU on migration and mobility. The new report captures the main features and tangible results of the IOM-EU partnership from 2015 to 2016 with a focus on joint efforts in implementing the Joint Valletta Action Plan, as well as IOM's engagement with the EU Trust Fund for Africa.
IOM-EU Cooperation on Migration and Mobility: Addressing the Valletta Summit Priorities Together examines how IOM and the EU are working together across the five priority domains agreed at the Valletta Summit in 2015: development benefits of migration and addressing root causes; legal migration and mobility, protection and asylum; prevention of and fight against irregular migration, migrant smuggling and trafficking in human beings; and return, readmission and reintegration.
---
Related Articles
LATEST NEWS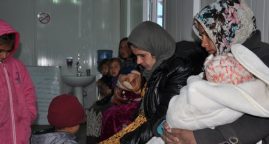 04/03/2017. In our line of work, we rely on numbers. The numbers guide us to where the needs are. They tell us what is making people sick. They indicate how difficult it is for some to access healthcare.
Migrants & Refugees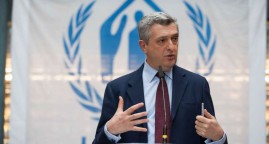 January 2016. The new UNHCR chief urges governments to invest more energy and resources to resolve wars and conflicts.
Humanitarian Aid & International Solidarity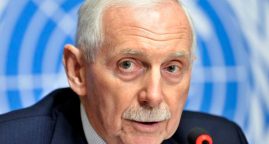 04/05/2017. "The future of Syria will be grim if current needs are not being addressed with a greater sense of urgency."