Audrey Azoulay nominated by UNESCO Executive Board for the post of Director-General
Article published on UNESCO website on 10/13/2017
The 58 members of UNESCO's Executive Board on 13 October nominated Audrey Azoulay of France for the position of Director-General of the Organization, replacing outgoing Director-General Irina Bokova.
The nomination will be submitted to the vote of the General Conference that brings together all 195 Member States of the Organization every two years on 10 November.
After five rounds of voting that began on 9 October, the Board's Chairperson, Michael Worbs (Germany), announced the outcome congratulating Ms Azoulay: "Your previous experience as a government minister and in other senior national and international positions gives you the expertise, competence and depth of knowledge you will need if you are entrusted with the supreme leadership of our Organization."
Born in 1972, Audrey Azoulay served as France's Minister of Culture from February 2016 to May 2017. She began her career in the offices in charge of supporting public broadcasting in France and went on to serve as rapporteur for the French public audit authority, Cour des Comptes, and legal expert for the European Commission in the fields of culture and communication. She successively held the positions of Deputy Director for Multimedia Affairs, Chief Financial and Legal Officer and Deputy Director-General of the French National Centre of Cinematography (CNC). Ms Azoulay is a graduate of France's school of public administration, the Ecole nationale d'administration, and holds an MA in Business Administration from the University of Lancaster (UK) and a degree in political science from the Institut d'Etudes Politiques (France).
UNESCO Member States presented nine candidates for the position: Polad Bülbüloglu (Azerbaijan), Qian Tang (China), Moushira Khattab (Egypt), Audrey Azoulay (France), Juan Alfonso Fuentes Soria (Guatemala), Saleh Al-Hasnawi (Iraq), Vera El-Khoury Lacoeuilhe (Lebanon), Hamad bin Abdulaziz Al-Kawari (Qatar), Pham Sanh Chau (Viet Nam).
---
Related Articles
Diplomacy & Mediations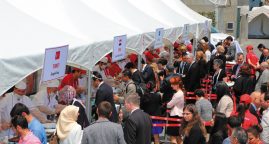 09/13/2016. The Grand Bargain will help make sure money is put to optimal use and, crucially, help to raise new funds", Peter Maurer.
Diplomacy & Mediations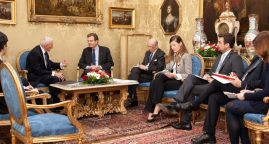 04/04/2017. William Lacy Swing, Director General of the OIM, was received in the Magistral Palace by Albrecht Boeselager. One of the key elements of the meeting was the difficult situation in Libya.
LATEST NEWS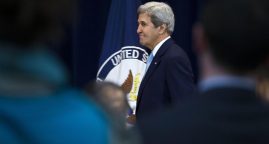 03/01/2017. "It's important to note that every United States administration, Republican and Democratic, has opposed settlements as contrary to the prospects for peace." Secretary of State John F. Kerry.