5 natural disasters that beg for climate action
Article published on august 2018 on OXFAM website
Climate hazards are natural events in weather cycles. We've always had hurricanes and droughts, flooding and high winds. However, we are currently witnessing a scale of destruction and devastation that is new and terrifying.
2017 alone has seen a series of devastating climate disasters in various parts of the world, extreme weather events such as Hurricane Irma, deadly heat waves in India, Europe and elsewhere, and flooding in south-east Asia. From Houston to Mumbai, millions of homes are underwater or blown over, and millions of people are homeless and impoverished.
Why are the weather events so severe?
Simply put, changes in the global climate exacerbate climate hazards and amplify the risk of extreme weather disasters. Increase of air and water temperatures leads to rising sea levels, supercharged storms and higher wind speeds, more intense and prolonged droughts, heavier precipitation and flooding. The evidence is overwhelming:
Currently, we see an average of 400 "extreme weather events" every year.
Since June 2017, roughly 41 million people have been affected by flooding.
More than 150 million people live on land that will be below sea level or regular flood levels by the end of the century.
Growing storm surges and tsunamis threaten nearly a quarter of the world's population.
A growing trend of more destructive climate disasters
Hurricane Irma
Flooding and strong winds from an unprecedented succession of powerful hurricanes have destroyed homes and crops in the Dominican Republic, Haiti, and across other several Caribbean islands in September 2017. Hurricane Irma, the strongest observed in the Atlantic since 2005 in terms of maximum sustained winds, caused widespread and catastrophic damage.
South Asia floods
Across South Asia 43 million people have been hit in August 2017 by heavy monsoon rains and intense flooding which in some places is the worst it has been in nearly 30 years. More than 1,200 were killed in Bangladesh, India and Nepal. While some flooding is expected during monsoon season, this level is unusual and unheard of for most of the communities hit.
East Africa drought
On the back of 18 months drought caused by El Niño and higher temperatures linked to climate change, the Horn of Africa region is now going through a further drought, caused by a mixture of influences from La Niña and the Indian Ocean weather pattern. Millions of people are facing acute food and water shortages.
Hurricane Harvey
Hurricane Harvey was an extremely destructive Atlantic hurricane which became the first major hurricane to make landfall at such an intensity in the United States since 2005. It hit parts of Texas and Louisiana in August 2017, flooding areas with over four feet of water and displacing tens of thousands of people from their homes.
Heat wave in India and Pakistan
Extreme heat events are becoming hotter, lasting longer and occurring more often as the global average temperature climbs. In summer 2015, one of the deadliest heat waves in history killed more than 3,700 people in India and Pakistan. In 2017 both countries were gripped again by scorching heat, with temperatures soaring to 53.5C (128.3F) in Pakistan in May. The heat wave also hit the Middle East and Southern Europe, where it was named "Lucifer".
The disproportionate impact on the world's poorest people
Extreme weather disasters affect all countries, rich and poor. But as we face a future with enhanced risks, it is critical to face the reality of those who bear the burden of our changing climate. For Oxfam, this is an issue of justice: those living in poverty are the hardest hit by climate change despite being the least responsible for the crisis.
Climate change is forcing people from their homes, bringing poverty on top of poverty and increasing hunger. People in poorer countries are at least five time more likely to be displaced by extreme weather than people in rich countries.
The world faces a race against time to reduce emissions and help the most vulnerable cope with climate impacts that are already being faced today and will escalate in the years ahead. It's time to act now.
---
Related Articles
Migrants & Refugees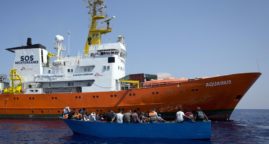 11/19/2019. No valid statistical link exists between the likelihood that migrants will be rescued at sea and the number of attempted Mediterranean crossings, a study has found.
LATEST NEWS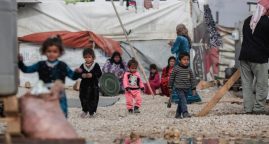 02/27/2017. Most of the 3.2 million who were driven from their homes in the first half of 2016 found shelter in low or middle income countries.
Diplomacy & Mediations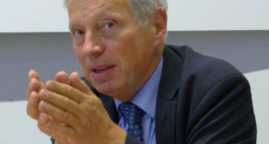 05/17/2019. Global Platform for Disaster Risk Reduction (GP2019)