NGO: how to stop people smugglers' murderous trade
The Italian Council for Refugees, an NGO promoting the rights of refugees and asylum seekers, says the people smugglers who cram hundreds of migrants onto rickety boats that are obviously unseaworthy are akin to "mass murderers."
The accusation came from Christopher Hein, a spokesman for the Council, when asked for his reaction to the latest tragedy involving migrants where an overcrowded boat carrying more than 500 migrants capsized in the southern Mediterranean, killing 5 people. He was interviewed by Susy Hodges.
Listen to the interview by Christopher Hein, spokesperson for the Italian Council for Refugees:

"Mass Murders"
Hein said the only "effective way" of stopping the unscrupulous people smugglers and preventing a recurrence of "these tragedies" at sea is to open up "legal channels for immigration" into Europe.
Commenting on the latest accident in the Mediterranean involving migrants, Hein had strong words against the actions of these people smugglers who he said cram hundreds of migrants onto these flimsy boats and who are well aware that these vessels are not seaworthy and not fit to make the journey from Libya to Lampedusa or Sicily.
Saying all they care about is "making money out of the desperation of these people," Hein described the people smugglers as responsible for "mass murders" because of the frequent deadly results of their trade.
Asked about the daily rescue missions by Italian and other international boats patrolling these waters, Hein pointed out that without these search and rescue missions, "hundreds of migrants" would be losing their life on a daily basis in their desperate bid to reach Europe. However, he said it was "paradoxical" that these patrol boats often have to wait until the migrants are actually "in danger" or maybe already in the water before intervening to save their lives.
Need legal channels of immigration
Hein stressed the need to open up legal channels for immigration into Europe, saying this is the "only effective way" to stop people trafficking and prevent these frequent deaths of migrants through drowning. He said another advantage of legal immigration channels, rather than illegal and unregulated migration, is the far greater security involved because in the former case, migrants would only come to Europe after obtaining a humanitarian visa that involves carrying out identity checks and investigations into that person's background and/or criminal record before he or she leaves their home country.
If they were to come through legal channels, Hein noted, "we would know who they are" whereas right now we "do not know anything" about these migrants who are landing on Europe's shores via the people smugglers' boats.
Read the article on Radio Vatican website
---
Related Articles
Migrants & Refugees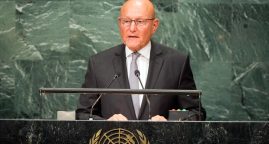 09/20/2016. "Lebanon is no longer able to assimilate additional displaced persons, and the United Nations should envision resettling the displaced Syrians within their national borders." Tammam Salam
LATEST NEWS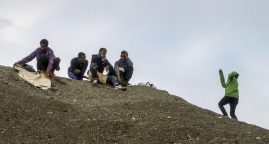 09/15/2017. Three in four (75%) in 25 countries around the world believe that immigration has increased in their country over the last five years, according to new data from the Ipsos Global @dvisor survey.
LATEST NEWS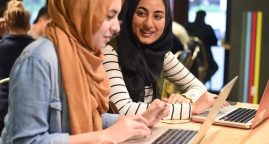 06/28/2017. As the largest wave of human displacement since World War II continues to unfold, an all-hands-on-deck response is required and must be scaled up.