World Humanitarian Summit : Five core responsibilities
The first-ever World Humanitarian Summit will take place from 23 to 24 May 2016 in Istanbul, Turkey.
Three years of extensive consultations reaching more than 23,000 people in 153 countries clearly called for change in how the international community addresses humanitarian need and suffering and called for a renewed commitment to humanity. Istanbul is the moment to demonstrate global unity and solidarity to prevent and end suffering, and to take all steps necessary to make humanity the driver of decision-making and collective action.
In his report for the World Humanitarian Summit, the United Nations Secretary General calls upon Member States and other stakeholders to accept and act
upon five core responsibilities that he believes are critical to delivering better
for humanity.
His Agenda for Humanity outlines the key actions and strategic shifts necessary to deliver on these responsibilities. The Secretary-General urges global leaders at the Summit to commit to taking the Agenda forward.  This should be a framework for action, change and mutual accountability to measure progress
over the next three years and beyond.
The 7 High-Level Leaders' Roundtables will provide high-profile opportunities for Heads of State and Government and high-level representatives from other stakeholders to make commitments and announce bold actions in support of the five core responsibilities of the Agenda for Humanity. Interactive and multi-stakeholder in nature, their aim will be to generate political will, momentum and concrete commitments to achieve the Agenda for Humanity.
---
Five core responsibilities
Global leadership to prevent and end conflict
Preventing conflicts and finding political solutions to resolve them is our first and foremost responsibility to humanity.
Uphold the norms that safeguard humanity
Every day, civilians are deliberately or indiscriminately killed in wars. We are witnessing the erosion of 150 years of international humanitarian law.But even wars have limits: leaders must recommit to upholding the rules that protect humanity.
Leave no one behind
The World Humanitarian Summit is the first test of our commitment to transform the lives of those most at risk of being left behind. This means reaching everyone and empowering all women, men, girls and boys to be agents of positive transformation.
Change people's lives – from delivering aid to ending need 
Success must now be measured by how people's vulnerability and risk are reduced, not by how needs are met year after year. Ending need will require three fundamental shifts in the way we work:
Reinforce, don't replace national systems
Anticipate, do not wait for crises
Transcend the humanitarian-development divide
Invest in humanity
Accepting and acting upon our shared responsibilities for humanity requires political, institutional and financial investment. As a shift is needed from funding to financing that invests in local capacities, is risk-informed, invests in fragile situations and incentivizes collective outcomes. We must also reduce the funding gap for humanitarian needs.
---
Seven High-Level Leaders' Roundtables
---
POLITICAL LEADERSHIP TO PREVENT AND END CONFLICTS
The objective of the High-Level Leaders' Roundtable on "Political Leadership to Prevent and End Conflict" is to deliver concrete policy and operational commitments aimed at addressing specific actions outlined in Core Responsibility One in the Secretary-General's Agenda for Humanity.
---
UPHOLD THE NORMS THAT SAFEGUARD HUMANITY
The objective of this High-Level Leaders' Roundtable is to mobilize resources and exert influence as part of a global effort to reduce human suffering and enhance the protection of civilians, with a particular focus on reducing the humanitarian impact of the conduct of hostilities and enabling humanitarian action and health care.
---
LEAVING NO ONE BEHIND: A COMMITMENT TO ADDRESS FORCED DISPLACEMENT
The objective of the High-Level Leaders' Roundtable on "Leaving No One Behind: a Commitment to Address Forced Displacement" is to identify and secure concrete policy, legal and operational commitments aimed at reducing forced displacement by addressing its humanitarian, political, economic and social dimensions more coherently, and to ensure that host countries and host communities receive adequate and sustained support, including through better sharing of responsibilities.
---
WOMEN AND GIRLS: CATALYSING ACTION TO ACHIEVE GENDER EQUALITY
The objective of the High-Level Leaders' Roundtable "Women and Girls: Catalyzing Action to Achieve Gender Equality" is to have leaders demonstrate decisive leadership and assume responsibility for meeting the needs of women and girls in crisis settings. After decades of insufficient action, we must use the Summit to focus world attention on the unacceptable exclusion of women and girls in decision-making in many crisis settings, and the devastating impact of war, displacement, and disasters on their lives and livelihoods.
---
NATURAL DISASTERS AND CLIMATE CHANGE: MANAGING RISKS & CRISES DIFFERENTLY
The objective of the High-Level Leaders' Roundtable on "Managing Risks and Crises Differently" is to build on global agreements in 2015 to commit to a more collective approach to managing risks, and increasing investments in preparedness, reinforcing national and local systems, and agreeing clear responsibilities, triggers and guaranteed finance for early action.
---
CHANGING PEOPLE'S LIVES: FROM DELIVERING AID TO ENDING NEED
The objective of the High-Level Leaders' Roundtable on "Changing People's Lives: From Delivering Aid to Ending Need" is to identify and secure concrete policy and operational commitments aimed at advancing Core Responsibility Four of the Secretary-General's Agenda for Humanity.
---
HUMANITARIAN FINANCING: INVESTING IN HUMANITY
The objective of the High-Level Leaders' Roundtable on "Investing in Humanity" is to commit to actions which will guarantee the minimum resources necessary to preserve life and dignity for people affected by conflict and disasters and will maximise the impact of available resources.
---
Related Articles
Humanitarian Aid & International Solidarity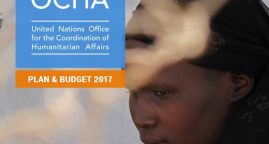 03/16/2017. 2017 is already a year of brutal conflict and escalating humanitarian crises.
Humanitarian Aid & International Solidarity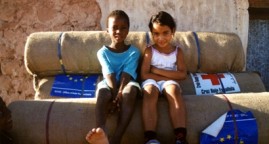 02/23/2016. On the occasion of the 3rd National Conference Humanitarian the CEO of the French Development Agency invites us to consider development aid as an investment.
LATEST NEWS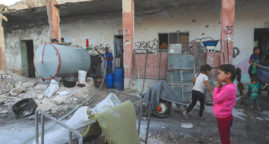 11/14/2019. With the resolution authorizing cross-border aid expiring in December, Lowcock stressed to the council that "there is no alternative to the cross-border operation".