Webinaire – Modern Slavery and Decent Work
Webinaire le 22 Juin 2021 – 18h00 : Modern Slavery and Decent Work (ON-DEMAND VIDEO WEBINAR)
Webinaire en anglais à voir en replay (durée 2h)
Join us for a better understanding of the growing phenomenon of modern slavery, through the intersecting perspectives of an economist Professor Marc Chesney, a victim assistance expert Cristina Duranti and a supply chain specialist Brian Iselin, a representative of the Vatican's Migrants & Refugees – Integral Human Development section Andrea Marchesani and a psychologist Dr. Gabriele Spina helping migrants and young people who work in a hyper-competitive economy that all too often functions with underpaid jobs. As our previous seminars have demonstrated, a new approach based on the demand for goods and services related to human trafficking should be developed by all actors, governments, to reduce and eradicate modern slavery.
---
Sur le même sujet
Conférences & publications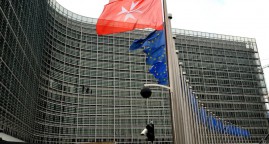 En mars 2012 à Bruxelles, la Fondation Française de l'Ordre de Malte a participé à l'organisation de ce séminaire promu par la Commission européenne et l'Ordre Souverain de Malte.
CONFÉRENCES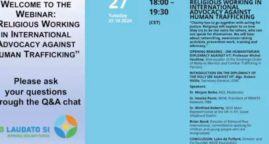 Webinaire en replay : 27/10/2020 Part 2 – International webinars on human trafficking in the light of the 5th anniversary of "laudato si" and of the new "fratelli tutti" encyclical
CONFÉRENCES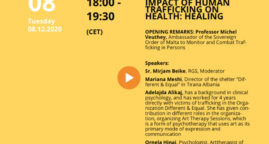 Webinaire en replay : 08/12/2020 Trauma: having been trafficked leads to severe trauma for the persons concerned. The steps of a long process of healing: in this Webinar we learn why the healing and reintegration process of victims of trafficking is so long and complex.