Syria, Ukraine, and the Failure of Western Diplomacy
Article published in Carnegie Europe website on December 08, 2016
December has been a busy month in Europe. NATO foreign ministers met in Brussels on December 6 and 7. The agenda: Ukraine and Afghanistan. The S-word (Syria) barely got a look-in.
In Hamburg, more than 50 foreign ministers from the members of the Organization for Security and Cooperation in Europe (OSCE) gathered on December 8 and 9 for their annual get-together. The agenda: mostly Ukraine and Syria.
On December 12 and 13, EU foreign ministers met in Brussels for their regular General Affairs Council meeting. The agenda: Ukraine and Syria.
To round off the month, EU leaders held a summit in the Belgian capital on December 15. The agenda: Ukraine, Syria, and a raft of other issues.
The end resulted resolutions, statements, and more hand-wringing. But there is also a growing sense of powerlessness as the tools of traditional diplomacy are being eclipsed by a new kind of state power that Western democracies have yet to respond to.
Russia exemplifies this new state power. Increasingly, Moscow does not only rely on hard power, as its involvement in the conflicts in Ukraine and Syria has shown: Russia is also using a panoply of sophisticated instruments from cyberwarfare and social media to disinformation and the debilitation of communications. It is as if Russia has modernized its Cold War machinery of propaganda by using twenty-first-century technology to seek power and influence outside its borders.
As Keir Giles of Chatham House wrote in an excellent new paper, Handbook of Russian Information Warfare, "Russia sees superiority in this broad application of information warfare as a key enabler for victory in current and future conflict." The inference is that the old tools of diplomacy and engagement used by NATO, the EU, the OSCE, and individual countries cannot match this challenge from Russia.
Indeed, there is consensus in neither NATO nor the EU about how the two organizations can work together in practical terms to modernize their diplomacy to deal with the Russian state. In addition, neither body has sufficient expertise or political will to address this new kind of state power, influence, and use of social media.
Western diplomats could argue that old-fashioned diplomacy served them well when they brokered the July 2015 nuclear deal with Iran or when in February 2015 German Chancellor Angela Merkel secured the Minsk II agreement with Russia in a bid to end the fighting in eastern Ukraine.
On both counts, the diplomatic overtures were coupled with sanctions. But these limited diplomatic successes have not stopped Russian President Vladimir Putin from continuing to meddle in eastern Ukraine or Iran from vying to become a major geostrategic player in the Middle East. Above all, when it comes to the war in Syria, Western diplomacy has had no traction whatsoever with Putin or with Iranian President Hassan Rouhani.
One reason is that the West was united about what it wanted from the Minsk II accord and the Iran nuclear deal. The same cannot be said about Syria. Western diplomacy has not been underpinned by any kind of hard power, and sanctions have had no impact whatsoever. Russia, Iran, and the regime of Syrian President Bashar al-Assad that they are propping up know that the West has no appetite to become embroiled in the war in Syria.
But the EU and NATO also have no appetite or united will to counter the influence of the Russian state. The impact of Russia's information warfare against the West is bleak, to say the least. Moscow's tactics could graduate to full-fledged war. As Giles concluded, "if and when information warfare with Russia moves to an overt phase, it is not just NATO servicemen that will be the targets; but [also] their families, their communities, their societies and their homelands, no matter how safely far away from Russia they may presently consider themselves to be."
Jens Stoltenberg, NATO's secretary general, has consistently kept the door open to Russia to avoid collisions or an escalation in tensions along NATO's Eastern flank. Yet Russia continues to provoke the Baltic states and demonize NATO. As for the United States, it has had practically no influence on Russia's role in Syria.
The Russian state is exposing the West's diplomatic and political inability to counter a new kind of power that is more than capable of creating instability. Both NATO and the EU will require a new mind-set to prevent that from happening.
---
Related Articles
LATEST NEWS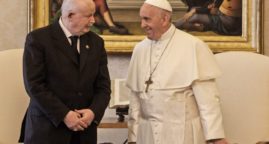 06/22/2018. During the meeting, the Grand Master illustrated the Order of Malta's main activities in the humanitarian and diplomatic sectors last year.
Diplomacy & Mediations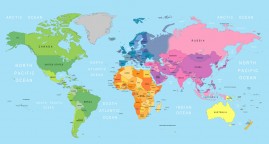 01/19/2016. What are the main risks we see point in 2016, threatening the security and peace?
LATEST NEWS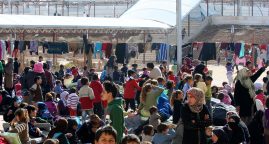 04/27/2017. The top United Nations humanitarian official today urged consolidation of the nationwide ceasefire, most importantly a pause in fighting on the outskirts of Damascus, to enable the delivery of aid.