L'ONU envoie le docteur Salamé au chevet de la Libye
Article paru sur le site du journal Libération le 22/06/2017 par Par Célian Macé 
Le nouvel envoyé spécial des Nations unies, le Libanais Ghassan Salamé, est un intellectuel réputé et un diplomate chevronné. Il remplace l'Allemand Martin Kobler.
C'est le sixième homme à s'atteler à la tâche. Ghassan Salamé, 66 ans, a été nommé envoyé spécial de l'ONU en Libye. Le Conseil de sécurité a officiellement validé sa candidature mardi, sur recommandation du secrétaire général des Nations unies, Antonio Guterres. Originaire d'un village chrétien des montagnes du Liban, Ghassan Salamé, fils d'instituteur, s'est installé en France en 1975 avec sa famille – il est le père de la journaliste Léa Salamé. Intellectuel renommé, docteur en sciences politiques et en lettres, il partage ses activités entre l'enseignement universitaire et la diplomatie.
Ministre de la Culture du gouvernement de Rafik Hariri au début des années 2000, il est par ailleurs l'auteur de nombreux ouvrages de géopolitique et fut pendant cinq ans directeur de l'Ecole des affaires internationales de Sciences-Po Paris. Son parcours onusien, en parallèle, l'a notamment conduit en Irak, où il manqua d'être tué dans un attentat à Bagdad le 19 août 2003, et en Birmanie, où Ghassan Salamé s'est impliqué pour faire cesser les persécutions visant la minorité musulmane rohingya. Il avait l'oreille de Kofi Annan, secrétaire général des Nations unies de 1997 à 2006, puis de Ban Ki-moon (2007-2016). L'an dernier, le Libanais avait présenté sa candidature à la direction générale de l'Unesco.
En Libye, il remplace l'Allemand Martin Kobler, dont le mandat avait été prolongé de quatre mois. Le précédent candidat à sa succession, l'ex-Premier ministre palestinien Salam Fayyad, avait été rejeté à la surprise générale par l'administration Trump en début d'année. Sa représentante aux Nations unies, Nikki Haley, avait déploré le fait que «depuis trop longtemps, l'ONU a injustement penché en faveur de l'Autorité palestinienne au détriment de nos alliés en Israël».
La mission de Ghassan Salamé est des plus délicates. La Libye reste partagée entre trois gouvernements rivaux – l'ONU reconnaît celui de Faïez el-Serraj, installé à Tripoli mais à l'autorité très fragile – et des dizaines de municipalités, milices, tribus et groupes armés autonomes, aux allégeances changeantes. L'un des premiers défis de l'envoyé spécial sera d'asseoir à la table des négociations l'intraitable maréchal Khalifa Haftar, qui a pris le contrôle de la moitié Est du pays et dont les troupes ont récemment avancé vers l'Ouest. Motif d'espoir : la Chambre des représentants, qui soutient Haftar, a salué ce jeudi la nomination de Ghassan Salamé. Une reprise des discussions pourrait aboutir à un aménagement de l'accord de Skhirat – la feuille de route qui devait mener à la réconciliation libyenne – signé en décembre 2015 mais aujourd'hui jugé inapplicable.
L'intellectuel libanais ne s'est pas encore exprimé publiquement sur ce dossier brûlant. Mais, conformément à ses habitudes, il a tweeté un poème de Verlaine en français et en arabe. Son titre : J'ai presque peur, en vérité.
---
Related Articles
Diplomacy & Mediations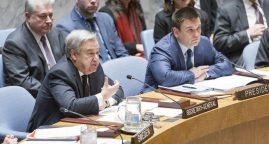 02/21/2017. António Guterres called for reinforcing mutual trust and respect to strengthen stability and cooperation both within Europe and beyond.
Humanitarian Aid & International Solidarity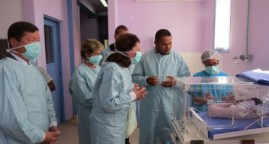 04/06/2016. Motherhood Sainte Fleur is a maternity managed by the French Order of Malta in Madagascar.
Humanitarian Aid & International Solidarity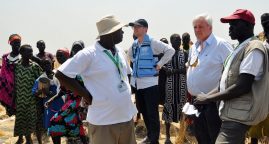 03/10/2017. We are facing the largest humanitarian crisis since the creation of the UN," UN Emergency Relief Coordinator.